Repair Broken iPhone X Screen in NY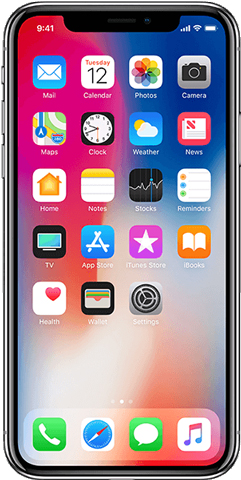 Your iPhone X was expensive. Therefore, you don't want anything to happen to it. I Can Fix It For You understands that things can go wrong, and when they do, you don't want to struggle to pay for the repair or replacement service. We are able to repair broken iPhone X screens in New York and we offer great deals. Without the extended warranty on your device, screen repair and replacement can get costly. Often times, customers can't justify paying for a warranty when they buy their new device, because the cost of the new device was already expensive. In addition to the warranty, there are often service fees, too. But don't fret over the cost if you need to repair your broken iPhone X screen or any other part – just turn to us for a free price quote. Our NY techs are here to help!
iPhone X Broken LCD Screen Repairs in NY
A broken iPhone X LCD screen can happen to anyone. Whether you dropped your device, or a friend set it on the kitchen counter and it fell on the tile floor, cracking the glass, we can help you. Whether the issue is just the top layer of glass or goes deeper to the LCD display, we are available to help you. iPhone X broken LCD screen repairs are available in NY for a great deal with our experts. We offer various other repairs, too!
Same Day iPhone X Repair in New York
Same day iPhone X repairs in NY can mean that you don't miss important phone calls – it can mean that you are able to contact family as needed. Same day iPhone X repairs are important and that is why we make them available to our customers.
Turn to us to fix your:
Front or back camera
Microphone
Glass
Speaker
Power button
Charger port
Battery
Earpiece
Walk-Ins Welcome for iPhone X Repairs!
If you are looking for a repair center in New York that is able to accept walk-ins for iPhone X repairs, remember our name. I Can Fix It For You will make sure that you get the service you are looking for. From batteries that will not charge to screens with broken glass, we are proud to be able to offer all that our customers are looking for. So if you were searching for "iPhone X repairs near me in New York" all you have to do is stop by our shop or dial our number to set up an appointment time.
We are glad you decided to visit our site and hope you will call us when you need iPhone X repair services in New York! Remember, we can fix all sorts of problems, from batteries that won't charge to earpieces that won't work.